The whole world was completely revolutionized by this "digital age". The internet has changed the whole perspective of knowledge sharing. Print media has been replaced by social media platforms. Facebook, Twitter, and Instagram have developed new concepts for sharing and connecting with friends. Snapchat is a new addition to social media with new features for millennials. Snapchat is different and inventive, and it takes several steps to search for Snapchat users. This article will walk you through the search for users, Snapchat codes, and other methods of finding someone on Snapchat with or without a username.
There are tons of ways to find Snapchat users. You will find them with us without the username. Snapchat is a slightly different social media platform from Facebook or Twitter. We are all well aware that we can find people on Facebook by their username, full name, or email ID. But finding someone or making friends on Snapchat is a whole different story. There are several ways to find your friends on Snapchat by username, phone number or location, etc. So let's discuss the ways we can find and add Snapchat users without using their usernames. Would you like to view Snapchat status anonymously? Here is how to view Snapchat stories without them knowing.
Most of us know that Snapchat usernames are unique and cannot be changed once set. There are a few easy steps you can take to add people to your Snapchat friends list. If you tap on your Snapchat profile, you will find options such as add friends and sync contacts. Your Snapchat account is linked to your phone number and you can add friends who have a Snapchat account. In the Add Friends tab, you can add friends, contacts, and Snapcodes, among other things. We'll get into the details of how to use all of these options to find people on Snapchat.
How to Find Someone on Snapchat – Snapchat User Search
We're going to cover a total of six steps to find someone on Snapchat
Using snapcode
Nearby users using the location
Add with username
Add by phone number
How to find someone on snapchat by email
Using a different social media platform
Add someone on Snapchat with Snapcode
Snapchat offers its users the ability to create unique snapcodes. The functionality of these codes is comparable to that of QR codes. You can scan the Snapcode via Snapchat and then just follow them. Many famous people and celebrities use Snapcodes so that users can easily follow them. You can add as many people as you want by scanning Snapcode. Snapchat users share the screenshots of the Snapcodes on Google or another social media platform.
When you open your profile page, you will find the option "Add friends". If you tap to add friends, you have two options. One is all contacts and the other is scan snap code. Save the Snapcodes photos of the people you want to add to your camera roll. You can access the saved snapcodes via the scan snap code. Once the Snapcode has been successfully scanned, a profile will appear on your screen. Just add the Snapchat user as your friend.
Find Nearby Snapchat Users
There is an additional option to add nearby Snapchat users. You will find this option under the "Add friends" option. Make sure you've turned on your device's location so Snapchat can identify the nearby users. Snapchat scans the nearby users and displays their profiles on your screen. This is a great way to add nearby people to your Snapchat. Snapchat map is a useful feature that helps you find friends by Snapchat location. You can also track your friend's location on Snapchat if you share all of our locations.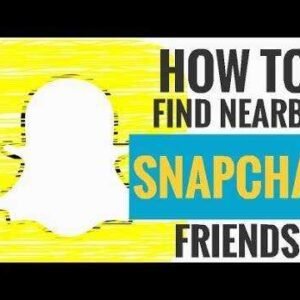 Find someone's Snapchat username
This is the easiest method you can use to search for friends on Snapchat using your Snapchat account. Open the Snapchat app and go to the Add Friends menu. You can use the Username option to search for Snapchat users. Enter the username in the search bar of Snapchat members. The Snapchat app suggests Snapchat users based on the input name. When you find the person you are looking for, add them as a friend. As mentioned earlier in this article, Snapchat usernames are unique and, once set, cannot be changed by users. It is easy for you to find the most relevant person as Snapchat offers all relevant searches. If you're not able to use Snapchat at work or in school, here is how to Snapchat login unblocked at school.
Find someone on Snapchat by phone number
You can follow someone on Snapchat by phone numbers. Make sure to add the phone number to your phonebook, then open the "My Friends" option on Snapchat. Two options are available at the top. The left option "Friends" shows your current friends list on Snapchat. The correct option shows the contacts in your address book. You can add your friend by phone number on Snapchat.
How To Search Someone On Snapchat By Email
Can you search snapchat by email? Yes, you can also find Snapchat users by using an email ID. If you don't know the phone number, you can add friends by using Add Email ID instead of using the address book. You can add your friends who have an email ID associated with their Snapchat account.
Find Snapchat Users Who Search Through Social Media
Most people share their Snapchat usernames and Snapcodes on their social media profiles and biographies on Facebook, Twitter, and Instagram. Just copy the username and find it in the Snapchat user search. The Snapchat profile will appear in your main menu and you can add them as friends on Snapchat.
Frequently Asked Questions
How do I find out my Snapchat email address?
You can click on your profile and then go to settings. There you will find your e-mail under the heading E-mail under the mobile number.
How can I find out someone's email address?
You can't find other people's email addresses on Snapchat because they contain very little information, even in your friends' profiles.
How can I search for people on Snapchat?
Finding someone on Snapchat is really easy and there are several ways to do it. You can search for people you know by adding your phone contacts. You can also search people by their username and this can also be done with Snapcode.
How can you find someone on Snapchat without their username?
You can find someone by phone number if you don't have a username. You can use Snapchat users to search for their names. You can also download the yellow app and use it to find out the Snapchat username once you like each other.
How do you find people you know on Snapchat?
You can find people who know Snapchat by their username and phone number in the Snapchat user search.
How do I find someone on Snapchat by phone number?
Open your Snapchat and swipe down from the camera screen. There you will see the Add friends button. Click here. You can click Add from Contacts and after giving Snapchat access to your contacts, you can find all your contacts under Snapchatters in your contacts list.
Can you browse Snapchat without an account?
No, you cannot browse Snapchat without an account.
How can you find someone on Snapchat without their phone number?
You can find someone by name or username by searching Snapchat.
How can I add someone to Snapchat without Google searching them?
You can add them from your contact list without looking in Snapchat searches.
Why is there no one in my Quick Add?
You need a certain number of mutual friends to have someone in your quick access, provided that person has activated the quick access feature in Snapchat.
Does Snapchat say to add someone?
Snapchat will let you know when someone is adding you, and Snapchat will also provide information about the method used to add you.
Final verdict
We've tried to put together all possible ways and steps to find people on Snapchat. We appreciate your friendship and want you to connect with your friends through Snapchat. You can use different ways to find people on Snapchat and enjoy their stories.