Xiaomi's high-end 2021 flagship Mi 11 was launched globally in early February. It was the first device in the world with the Qualcomm Snapdragon 888 processor.
Now Xiaomi has introduced the Mi 11 Ultra, which adds a seriously premium flagship to the Mi 11 range with a host of market-leading features. Here's everything we know about the phone.
Xiaomi Mi 11 Ultra: Price And Release Date
March 29 launch event
Available from the end of April
The Mi 11 Ultra was announced at Xiaomi's Mega Launch event on March 29, along with a few other devices, and will go on sale in the UK from the end of April.
As for price, expect this device to fall into the four-figure category given its high-end specs – it's the cameras in particular that will drive up costs.
Xiaomi Mi 11 Ultra: design and display (s)
164.3mm x 74.6mm x 8.38mm – 234g
6.81-inch AMOLED DotDisplay panel with four curves
3200 x 1440 resolution (WQHD +)
120Hz refresh rate
Aspect ratio 20: 9
The ceramic back panel, white or black, IP68 rating
1.1-inch secondary AMOLED display on the back
The interesting thing about the Ultra is that it has the same silhouette from the front as the Mi 11. That is, it has a similar 6.8-inch AMOLED display, with all the conveniences of a 2021: 120Hz flagship refresh rate and WQHD + resolution.
Specifically, the Mi 11 Ultra has a panel with a resolution of 3200 x 1440 that can reach a maximum brightness of 1700 nits, making it one of the sharpest and brightest screens on the market.
Also, it can display up to 1 billion colors, supports Dolby Vision and HDR10 +, and has adaptive frame rate technology to switch between 30Hz, 60Hz, 90Hz, and 120Hz as needed.
As impressive as the screen's touch sampling rate, which reaches speeds of up to 480 Hz, meaning the on-screen response to gestures and input should be almost instantaneous.
While it also has a 1.1-inch AMOLED display on the back to aid in selfies, Xiaomi has for some reason also opted to include a perforated front camera on the main display. It's a shame because we don't think it's necessary, other than the facial recognition login, to give the screen a chance to really maximize.
That secondary display comes in handy as an always-on scene display when not in use for taking great selfies with the rear cameras.
The Ultra is also designed to survive everyday life, with a ceramic panel that bends just 0.1mm when pressed and has an IP68 rating for water and dust resistance.
While it's curved on all four sides to make it more comfortable to hold, its 234g weight means it's noticeably heavier than the Oppo Find X3 Pro and OnePlus 9 Pro.
Xiaomi Mi 11 Ultra: Hardware And Specifications
Qualcomm Snapdragon 888 (5G) processor, 12 GB RAM
256 GB storage (no microSD expansion), dual SIM card
5,000 mAh battery capacity,
67W wired and wireless fast charging
Software: MIUI 12.5
This brings us to the hardware side. Xiaomi confirmed early on that the Mi 11 would include the Qualcomm Snapdragon 888 platform, making it the first flagship phone to receive such acclaim. The Ultra can't get higher, so it has the same platform.
The Mi 11 Ultra comes with maximum RAM and storage. That's 12 GB LPDDR5 RAM and 256 GB UFS3.1 storage, so you know this is going to be a super-fast phone.
Elsewhere, the Mi 11 Ultra houses a 5,000 mAh battery, slightly more spacious than the standard Mi 11, but it will likely be necessary to support the brighter display.
Even faster charging is also possible with the compatible 67W wireless charging. It can fill the phone in 38 minutes, making it the fastest wireless charging option yet. That equates to its 67W wired load.
In terms of software, the Mi 11 features the Android operating system from Google, and Xiaomi MIUI 12.5 is expected at the top. This software skin is said to bring "privacy and security updates", while optimizations reduce memory and power consumption.
Xiaomi Mi 11 Ultra: Cameras
Triple rear camera system:
Main: 50 MP f / 1.95, 1 / 1.12-inch GN2 sensor, optical stabilization (OIS)
Ultra-Wide: 48 MP, f / 2.2
Periscope zoom (5x): 48 MP, f / 4.1
Small OLED display on the back for selfies
Front camera for selfies: 20 MP, f / 2.4
Xiaomi has long sought to advance in phone camera photography, being one of the first companies to use a 108-megapixel sensor. Apparently, that's not returning for the Ultra model, but instead, it's a new 50-megapixel main sensor – the Samsung GN2, no less, and the first phone with this next-generation processor.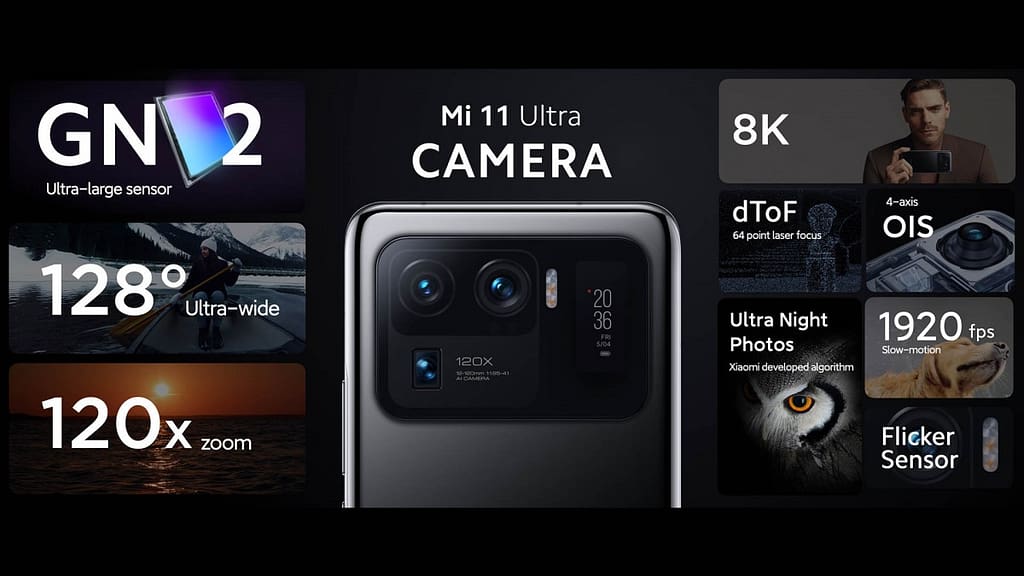 While the stock Mi 11 pushes a telemacro camera, that's all gone on the Ultra. Instead, it's about zooming. Instead, it has a 48-megapixel wide-angle lens and 5x optical periscope zoom. They both use the same sensor to ensure consistency and high-quality images.
The 5x optical zoom camera has up to 10x hybrid zoom and 120x digital zoom, which should make it an incredibly versatile phone for photography enthusiasts.
For videographers, there are resolutions of up to 8K at 24fps, plus the ability to record Dolby Vision and HDR10 + footage, just like the iPhone 12 Pro range.
But the most striking part of the rear camera setup? The case is huge because it houses a second small-scale OLED screen inside, which is used to aid in selfies. Therefore, we are somewhat surprised to spy on a front selfie camera as part of this design.
It's actually not the first time we've seen such an idea going to the Meizu Pro 7 from 2017, but we'll be interested to see how it develops in reality and if that second screen is a practical idea or not.
Xiaomi Mi 11 Ultra Battery And Charging
All of this is powered by a 5000 mAh battery. This cell does not use the normal lithium-ion technology of modern smartphones, but a new standard for oxygen and silicon that makes it possible to maintain the same power in a smaller space.
You can charge this battery with 67W wired or 67W wireless fast charging. Each of these is capable of draining the phone to 100% in just 36 minutes, according to Xiaomi's own testing.
Xiaomi Mi 11 Ultra: Perspectives
Taking all this into account, Xiaomi has produced a flagship phone that can take on the biggest names in the industry. Major phones like the Samsung Galaxy S21 Ultra, iPhone 12 Pro Max, or OnePlus 9 Pro just can't be compared to the Mi 11 Ultra when it comes to hardware. When it comes to cameras, charging speed, and especially that extra screen, there is no competition for Xiaomi's new flagship.
Considering how much we love the base Mi 11, we expect great things from the Ultra model when we get our hands on it for a review. But since Xiaomi is not selling its phones in the US due to government disputes, tragically it won't be able to make it into our list of best phones.
Inspired: Pocketlint