Are you bored with seeing the same old
mobile phone
, and yet don't want to replace it with a new one due to low-budget. We have a way for you to renew your love for your smartphone devices with these top 17 mobile phone accessories you can use to add more fun to your phone.
Mobile Phone Accessories Guide
There is a way by which you can renew your old phone, giving an attractive look and this way include mobile phone accessories which are available worldwide. These accessories make your life more comfortable, and they are described below.
1) Casing:
The outer covering and skin of a mobile phone can be changed according to the choice of the user. These skins can be simple or with motives over them. Sometimes, these are given free with the phone when a purchase is made. Such casings not only reshape the mobile, but also serve as a protective covering, and also provide heat protection. Such covers are made of vinyl or hard plastic.
You can check our sister website, evcase to know more about mobile phone cases.
2) Screen protectors:
A broken phone screen is something every phone user wants to avoid. However, the chances of your phone sliding off your fingers and falling to the floor are very high. That's why you get extra protection for your phone screen, whatever the cost.
Typically phone screen protectors cost less than replacing the phone screen and provide enough protection to keep the phone screen safe from minor drops. While your phone's screen protectors protect your phone's screen, they are not 100% efficient. The phone screen and screen protector will crack if the phone is dropped significantly.
To protect the screen of a mobile phone from any physical damage, a special sheet is used. These protective screen sheets have multiple properties as:
Non-adhesive
Anti-reflective
Anti-glare
Give a glossy and clear view
Tip: some touchscreen mobiles are affected when the screen protectors are not fixed properly. So use them in the right way, or you can also take help from a professional.
Universal charger: use this charger to charge the battery of any mobile phone you have. It includes a desktop charger and an all-pin charger. A single charger is capable of charging different devices.
3) Memory cards:
The built-in memory of the mobile phone is not enough for tasks as taking images or making videos and downloading movies right into mobile phones. Memory can be extended by the use of memory cards.
MicroSD cards provide more storage options for your phone. If you are a frequent phone user then you definitely need a microSD card with a large storage capacity. If you are an iPhone user, unfortunately, you cannot insert the microSD card directly into the phone. You need microSD adapters to connect the microSD card to the phone.
4) Bluetooth device:
This device has made it easier to answer any call while driving or doing work. You can check
Amazon*
for some useful Bluetooth device you can use to add more fun to your
5) Card readers:
These devices help transfer the data from mobile to PC or from the PC to mobile.
6) USB car charger:
You can plug the adapter into the car socket to charge the device while you are traveling.
7) Headphone:
Enjoy the music when you are working, traveling, exercising, jogging, or cooking, etc. Headphones are available in different colors, but white and black are mostly used. It can also be used to make a call or answer a call.
8. Cordless phone charger
Cordless phone chargers eliminate the need for cables and allow you to charge your phone anywhere, anytime. Wireless charging is usually faster and easier than wired charging, but you can only use them over short distances.
Many smartphone brands include wireless charging in their phone models, but you should make sure your cell phone is turned on for wireless charging before purchasing a wireless phone charger. Amazon one of the top-rated e-commerce stores in the United States.
9. iPhone repair kit
If you're an iPhone user, you need this repair kit in your mobile phone accessories lists. An iPhone repair kit consists of the tools and devices you need if you want to make adjustments or repairs to your iPhone. You don't need to take your phone to a phone repairman for some minor phone problems. However, you couldn't do anything without this iPhone repair kit.*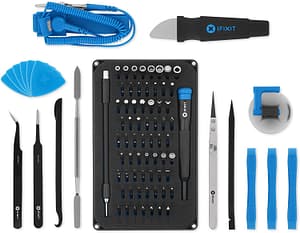 10. Bluetooth and WiFi speaker
We already mentioned Bluetooth in these lists of top mobile phone accessories you can use to add more fun to your phone, but not Wireless Fidelity Speaker.
The Bluetooth and WiFi speakers eliminate the need for audio cables and use radio frequency to pick up audio signals. These speakers are completely different from headphones because they cannot be used at the ear, but must be placed on a surface.
11. Power Bank – Best accessories for cell phones
Power banks are portable battery chargers that can charge any device with a USB cable. Energy banks have become very popular, especially in low-energy areas.
This cell phone accessory can be used to charge any mobile device, but the power bank must be charged before charging another device. It's must have mobile phone accessories.
12. Smartwatch
SmartWatch is a wearable technology device that does more than just tell the time. Depending on the manufacturer and features of the smartwatch, you may be able to receive calls, emails, notifications, monitor your fitness level, monitor your heart rate, and monitor your sleep activity.
13. OTG cable
OTG cables allow you to connect your phone to a laptop or computer and transfer files. This device may not be useful if you have a USB charger, as it has the same function.
The most popular OTG device is the OTG flash drive. Flash drives are storage devices for data, videos, audio, and other important files. With an OTG flash drive, you connect the flash drive to your phone and transfer files to the drive.
14. Phone holder
Watching movies on your phone can be a tedious task if you hold the phone in your hands. For those who like to watch movies with their cell phone, the best accessory is the cell phone holder. This makes you comfortable and freehand.
15. Selfie stick – The best mobile phone accessories for photo
For selfie lovers, selfie stick is a necessary mobile phone accessories you must have with your smartphone for better self picture taking.
A selfie stick is a very popular phone accessory that almost all cell phone users have, so there's no reason why you shouldn't have one. Selfie sticks allow you to take selfies from a great distance without straining.
16. Phone strap cover
You should keep your phone in a safe place while running. This can be at home or in the pocket. Unfortunately, keeping your phone in your pocket may not be the best decision, as you would break it during training. The best option is to buy a bracelet case for your phone that will keep you intact while exercising.
17. Finger Strap/ring holder
To avoid unexpected falls, use a finger strap/ring holder to hold the phone in place while you operate it. This device offers protection and makes your phone fashionable.
You can use the above mobile phone accessories or any other available in the market. However, consider your budget before getting anything.